The Big Apple Takes a Bite Out of Climate Change
Highlighting Sustainable Diets During Climate Week
On September 21, 2022, Coolfood hosted an event in New York City to celebrate its members' successes during Climate Week. It is critical for people – and the food businesses, cities, hospitals and others that help feed them – to embrace low-carbon foods, which is why Coolfood used this opportunity to bring awareness to the link between food-related emissions and the climate on a global stage.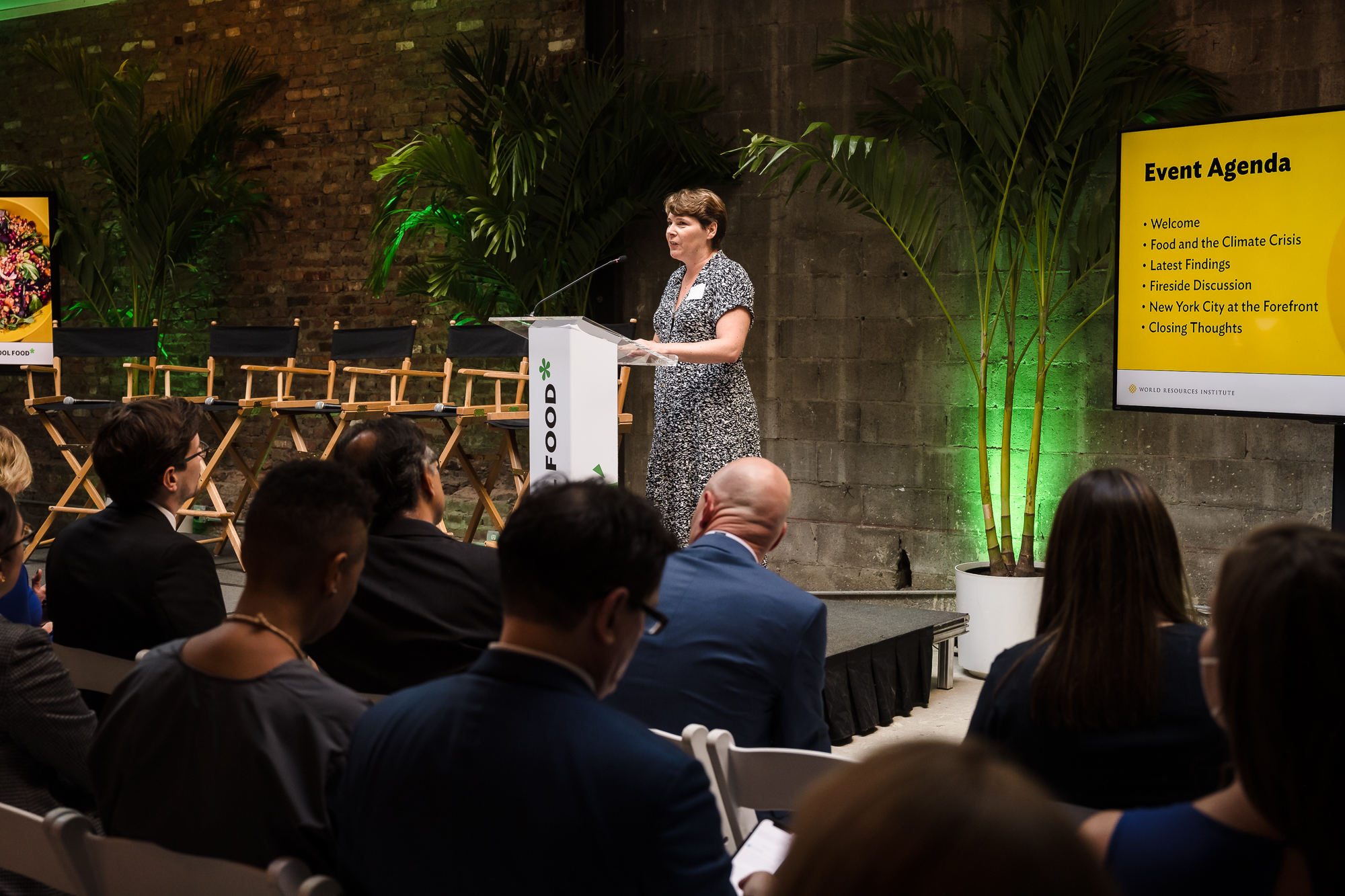 Anne Bordier, Director of Sustainable Diet (WRI) kicks off the event with opening remarks.
Despite ongoing challenges related to COVID-19 in the food service sector, Coolfood membership continued to grow throughout 2021 and 2022. Currently, 63 members are part of the movement, serving an estimated 3.5 billion meals per year. Coolfood continues to have big ambitions and our members keep making incredible
progress
toward their collective target to reduce food-related emissions by 25 percent by 2030. WRI's Director of Sustainable Diets
Anne Bordier
kicked off the event with an uplifting announcement in which she stated, "Our early Coolfood Pledge cohort has reduced per plate greenhouse gas (GHG) emissions by 21% since their baseline year." The group achieved this milestone through purchasing more plant-based ingredients and lowering the amount of ruminant meat being procured. Our
2021 Coolfood Pledge Collective Climate Impact Report
has more in-depth information about the cohort's progress.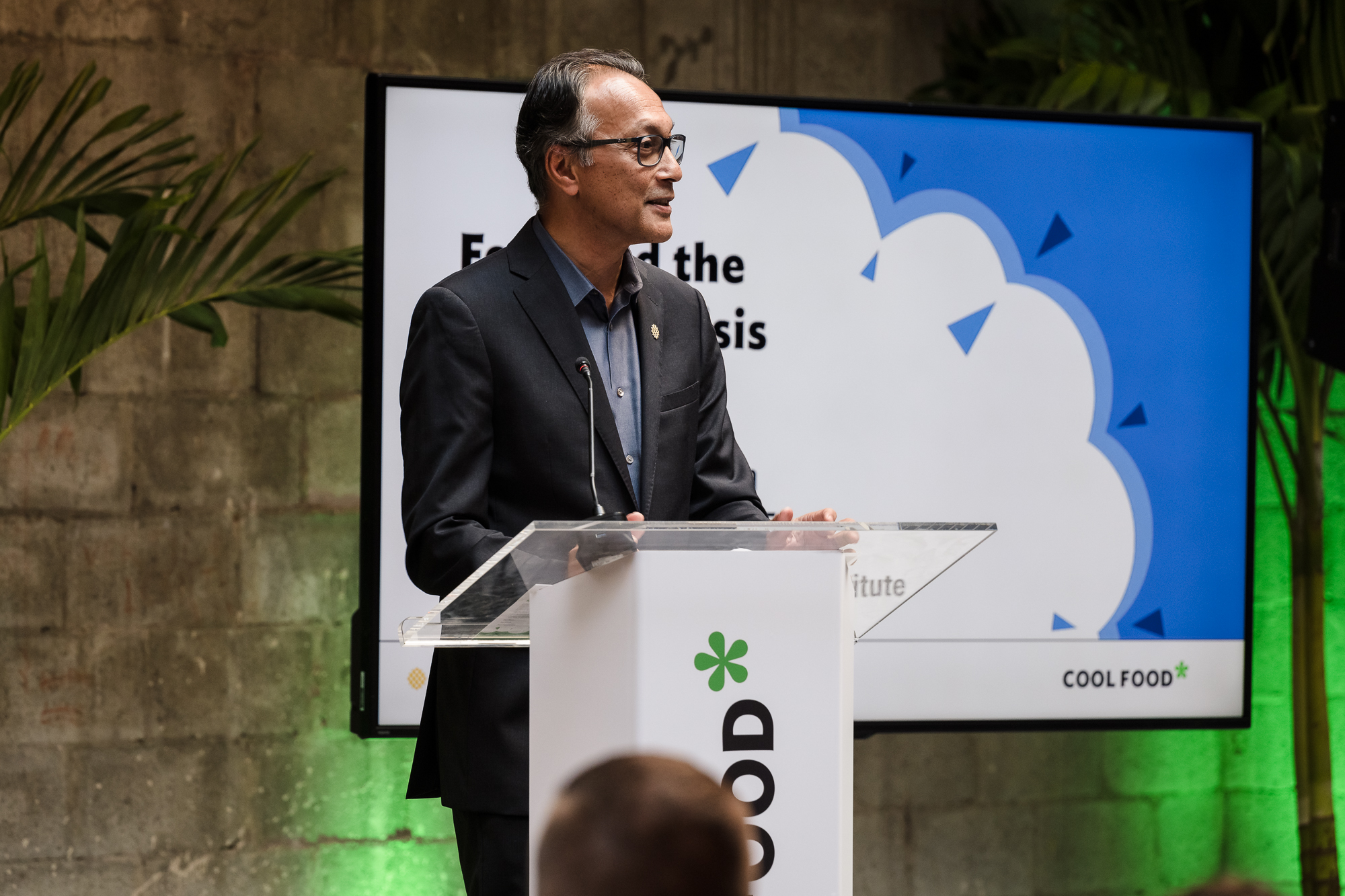 Ani Dasgupta, President & CEO of World Resources Institute.
Ani Dasgupta
, President and CEO of World Resources Institute, spoke about the link between food and the climate crisis. The food system is responsible for up to one-third of global GHG emissions, which makes it mission critical to reduce food-related emissions. Putting a spotlight on shifting diets helps us to expand these conversations and involve more stakeholders such as companies, public institutions that serve food, and consumers. Ani made the case that, "…[behavioral] science is really growing and can be an incredible part of the solution to climate because it involves each one of us." With the global population estimated to hit 9.5 billion people by 2050, everyone has a role to in building a sustainable food future.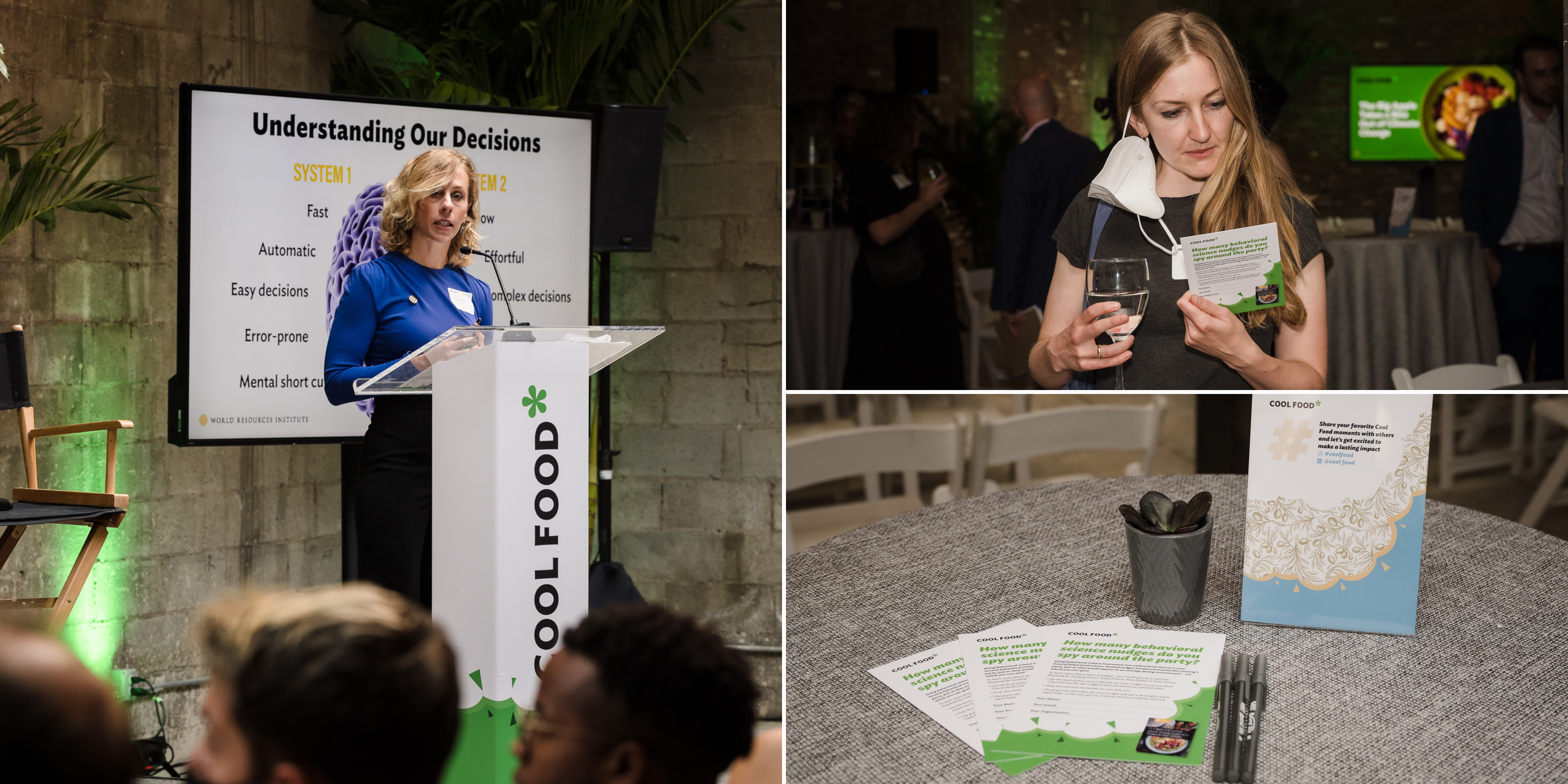 Left: Dr. Sophie Attwood presents on the importance of behavioral science and nudges; Top right: Guest looks for hidden behavioral nudges; Bottom right: Guests were provided with cards to fill out that asked them to identify as many behavioral nudges as possible.
Can behavioral science really impact the food that people choose? WRI's Dr. Sophie Attwood unveiled the high impact techniques that the food service sector can utilize to encourage consumers to choose more climate-friendly meals while dining out. Attendees were encouraged to try their best to identify and record any behavioral nudges they saw while perusing food options after the program.
Fireside Discussion with Coolfood Members
With Coolfood members consistently staying ahead of the pace needed to achieve the target of reducing food-related emissions by 25 percent by 2030, this was great occasion to hear directly from members about what has and hasn't worked in their quest to reduce their food-related emissions.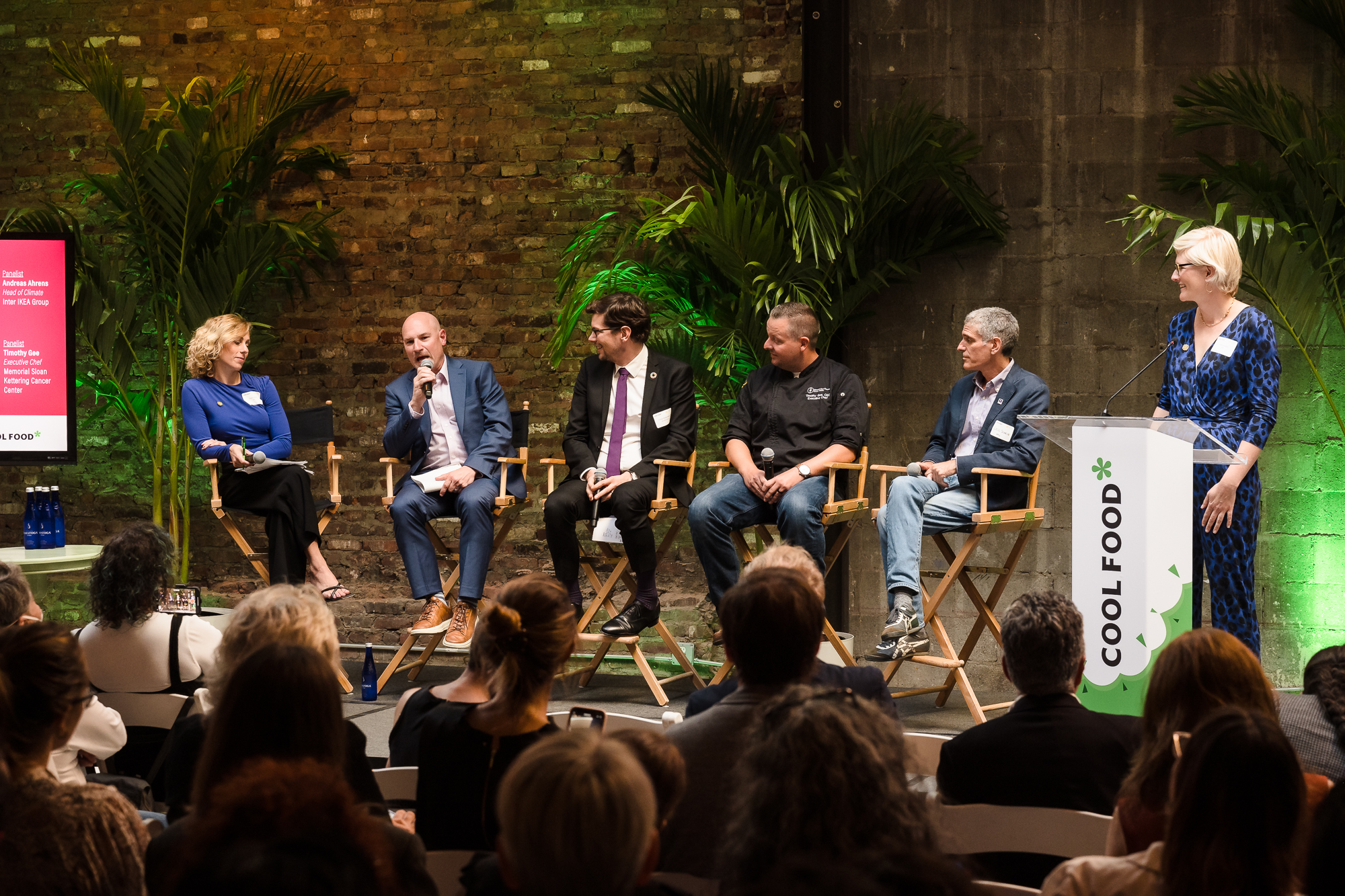 Coolfood Panel starting from the far left: Sophie Attwood (WRI), Alan Horowitz (Aramark), Andreas Ahrens (IKEA), Timothy Gee (Memorial Sloan Kettering), Cecil Scheib (NYU), Edwina Hughes (WRI).
The panel shared an overarching sentiment that plant-based foods can be just as tasty and filling as meat-based foods. It is important to show this to consumers by developing innovative dishes, leaning into global cuisines that are naturally plant-based or mostly plant-based, and giving chefs a creative license to experiment with new recipes. Additionally, with many young consumers hyper-aware of the climate crisis, it helps to encourage action by demonstrating how easily climate action can be worked into their daily life through what they eat.
The panel also shared the importance of highlighting that implementing small changes in diet can make a big difference, and these small changes can be encouraged with behavioral science interventions. Andreas Ahrens, Head of Climate for Inter IKEA Group, shared the nudging technique used to encourage consumers to try their new "plantball". When customers would buy regular meatballs, the servers would add a "plantball" to the plate to encourage diners to try the new plant-based option. Creative behavioral interventions such as these can go a long way in helping to reduce food-related emissions.
New York City at the Forefront
New York City was the first-ever city in the United States to join the Coolfood Pledge and continues to advocate for other cities to do the same. Kate MacKenzie, Executive Director of the Mayor's Office of Food Policy gave a warm welcome to Mayor Eric Adams who shared his very personal journey with food, health, and sustainability. He said, "We decided not to feed the [climate] crisis anymore." The City continues to pursue its commitment to reduce the GHGs associated with the food it serves and to ensure that all New Yorkers have multiple avenues to access healthy and affordable food.
Mayor Eric Adams speaks on the actions that New York City is taking to reduce food-related emissions.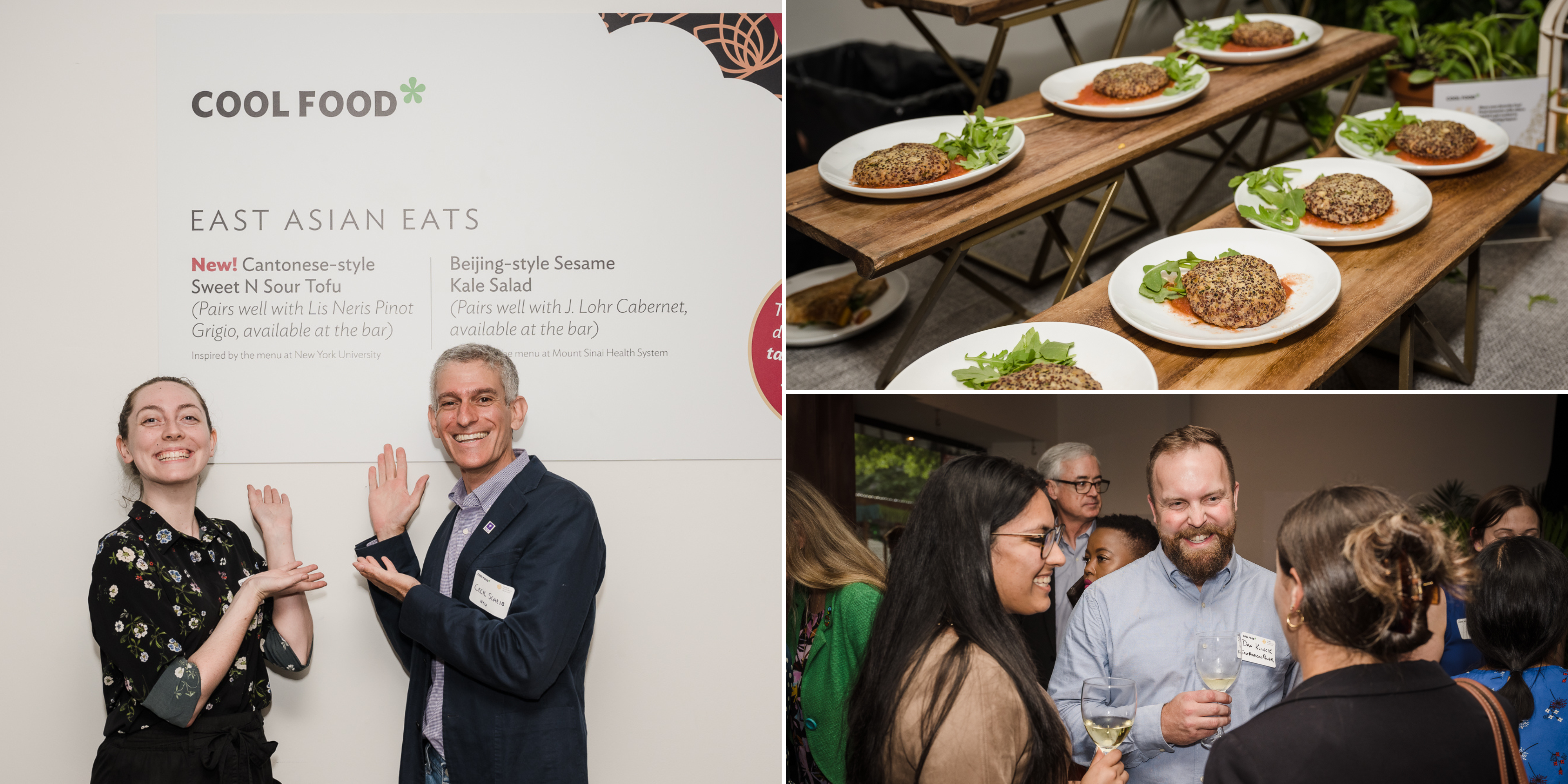 Left: NYU Chief Sustainability Officer Cecil Scheib shows off a dish that is featured in the NYU dining halls; Top right: Delicious browned quinoa & hummus patties with roasted tomato sauce; Bottom right: Guests enjoying the post-program reception.
After the program, guests had the opportunity to experience many tasty and diverse low-carbon foods that were inspired by the menus of Coolfood's New York-based members. To keep up with Coolfood and our news, be sure to follow us on
LinkedIn
!